hello
I BELIEVE THAT FOOD SPEAKS A LANGUAGE THAT EVERYONE CAN UNDERSTAND.
A good meal can transport you to unfamiliar territory, bring back nostalgic memories, or make you fall in love. For me, preparing food is a spiritual and energetic process. It not only requires confidence in knowledge and skills, but also trusting the gut and an innate desire to make people feel happy, healthy, and nurtured. Everyone has a relationship with it. The best part about food is the connections it can initiate - from land to farmer, farmer to chef, chef to chef, chef to eater, or from eater to eater. Food is an invitation for camaraderie and compassion. It is a chance to be creative and innovative. It is an opportunity to heal and love. It is a form of expression and communication.
It is life & it is beautifully delicious.
- KARLEY
Karley was raised on crappy food; frozen dinners, canned veggies, diet sodas, fast food. For many of her younger years she was blissfully unaware about where food came from and the impact it can have on so many parts of our lives.
Then in college, one trip to a local farmer's market on a Fall day changed everything for her. She was introduced to food in a whole new way - a local, organic, and sustainable way.
In 2010 she adopted a fully plant-based diet. It forced her to get in the kitchen and learn how to turn vegetables into tasty meals. She discovered she wasn't half bad and all of the plant nutrition made her feel better than she ever had!
Once Karley graduated school with a degree in Entrepreneurship, she felt compelled to dive deeper into this newfound love for good food. She apprenticed on a few small-scale organic farms where she became the unofficial snack provider. She would gladly turn all of the 'ugly' produce that didn't make it to market into tasty treats for her fellow farmers and friends. These experiences showed Karley where she really needed to be: cooking professionally.
She found a fully plant-based culinary school in Austin, TX and immersed herself in healing philosophies and culinary techniques. Cooking for others brings out an energy in Karley that feels like her true calling and she has been doing it around the globe ever since.
When Karley isn't cooking, she prefers the simple things and can be found walking amongst nauture, swimming in the sea, reading a good book, hunting for vintage treasures, exploring a new place, singing loudly, and (of course!) eating good food with good company. अहिंसा
I specialize in:
balanced dishes
health focused cuisine
international flavors
inspired plating
I value:
plant based
responsibly sourced
organically grown
seasonal ingredients
Retreats | education | onlIne content creation
branding for chefs & wellness professionals
food styling & photography | meal prep | private dinners & pop up's
meal plans | food-business consulting | recipe development
plant-based coaching | cleanse coaching
I aim to:
connect
inspire
educate
nourish
Play
the karleycucumber raw food cleanse
In August of 2018 I published my first ever ebook. What started as a simple plan I wrote for myself and a few friends turned into a full-fledged, 87-page ebook! I put my heart and soul into making it a comprehensive, fun, and beautiful book.
The Karleycucumber Cleanse is a 10-day raw food plan designed to reset the mind and body. It features several pages of tips for success and over 25 recipes. It is easy to follow and customizable to meet your needs. I wrote it in a playful and light tone so no one has to feel like they need to be one of those 'crazy vegan people' to understand it! And the best part of it is - it's easy! All you have to do is eat raw foods - but in this book I show you a way to do it that is fun and tasty!
I also offer cleanse coaching if you need a pal to keep you accountable with your goals!
Shoot me a message for details on that.
recipes
I believe in sharing my most treasured recipes and ideas. I periodically add new ones here, so follow along on instagram where I announce new posts!
raw strawberry, lime, and beetroot cake
Raw cakes are a specialty of mine and always a fan favorite. They are easy to make and a pretty healthy option for something sweet. These keep in the freezer for a long time so you can make a big batch and take out and defrost for special occasions!
cheezy potato gratin
A creamy cashew and root veggie cheese sauce in enveloped between layers of thinly sliced potatoes, caramelized shallots, fresh broccoli, and sweet peas. Then topped with gooey mochi cheese and crispy panko.
west african stew
This West African Peanut Stew is one of the very first things I made when I first went vegan in 2011. Prior to this, I don't think I had ever even made a stew in my life and had tried very little ethnic cuisine. It can be made with whatever veggies you have, and eaten with whatever grain you have; rice, quinoa, millet, etc. It keeps a while in the fridge and it's so so tasty!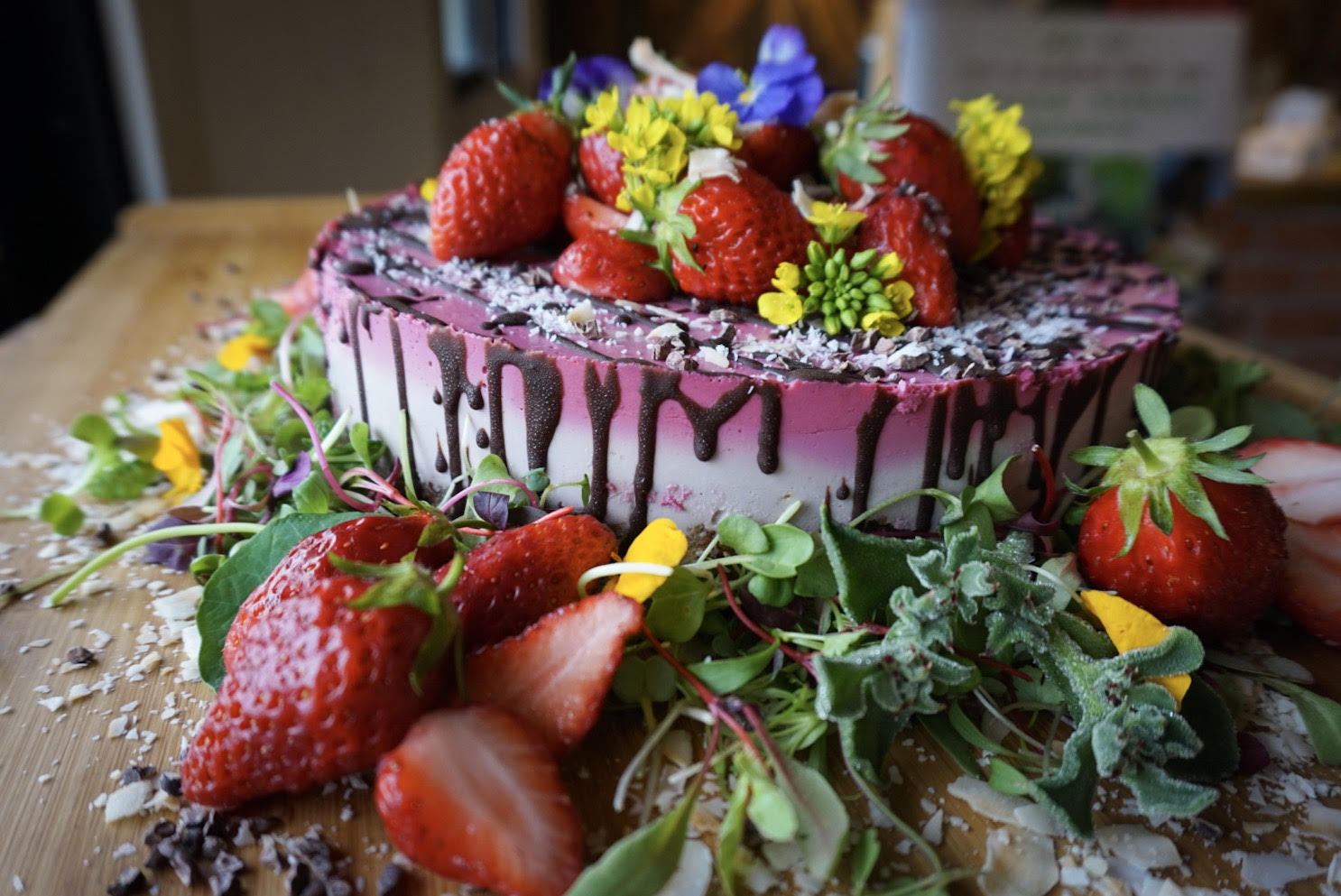 CONTACT
Let's connect and find out how we can create beautiful things together.